Discover more from Awesome Animals
Learn about cool animals with me, Mariam, as we go through awesome animal stories and interesting facts. Subscribe Now!
Lilly, A Brave Pit Bull
Awesome Animals
On May 9, 2012, in Massachusetts, Christine Spain, age 54, was taking her pet dog—an eight-year-old pit bull named Lilly— on a late-night walk. It seemed peaceful…until Christine fell unconscious on the train tracks they were crossing. Lilly the Pit Bull came to the rescue…Just as a train rumbled into sight, she pulled at her owner, trying to get her off the tracks in time. She just managed to pull Christine to safety, but she couldn't get off the tracks in time. Thankfully, Lilly was safe, except for her front right leg, which was bleeding badly. Lilly was quickly taken to an animal hospital, where her leg had to be amputated. That didn't discourage the three-legged pup though, and she took her first few steps only 8 days after the surgery. After lots of physical therapy, she was able to run and jump like any other playful dog. Her owner Christine would always be grateful for this special pup!
About Lilly
Lilly was rescued from an animal shelter by Christine's son, David, in 2009. He adopted her as a therapy dog for his mom, who was suffering from a few medical conditions. After the rescue, Lilly became an "Animal Celebrity" making trips to schools to teach people about pit bulls.
To learn more about Lilly, go to: https://lillytheheropitbull.com/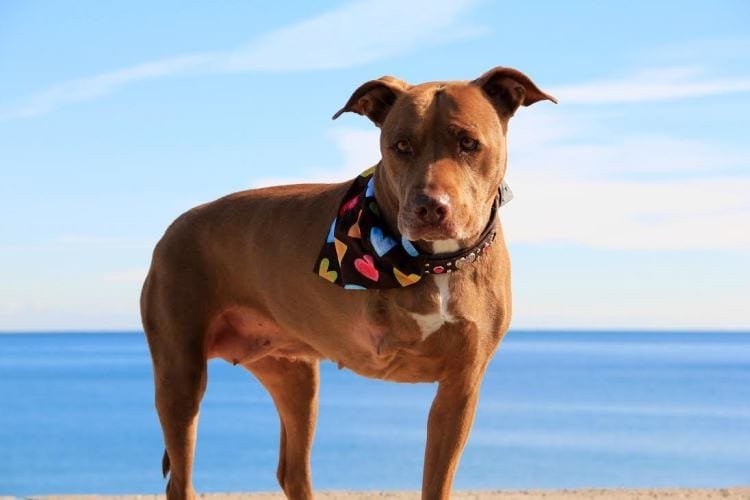 Doggie Facts
A dog can smell about 100,000 times better than a human.

Adult dogs have 42 teeth.

There are hundreds of different breeds of dogs, and around 400 million dogs in the world.

Dogs dream just like humans do.

A dog's nose print is unique, just like human fingerprints