Discover more from Awesome Animals
Learn about cool animals with me, Mariam, as we go through awesome animal stories and interesting facts. Subscribe Now!
Dolphins To The Rescue!
Awesome Animals
Okay, so we've heard the rumors that dolphins are heroic and that they'll save someone who is drowning, or help a lost sailor, but have you wondered how true these rumors are? Well, turns out they're not that far fetched after all.
Rob Howes, a lifeguard in New Zealand, went swimming with his teenage daughter, Nicole, and her two friends, Katrina and Helen, in the fall of 2004. They planned to swim a half-mile across the width of the bay they were in. But before they started, they warmed up by swimming to a circle of rocks, where the water swirled around the inside of the circle. The girls loved jumping into the churning water and getting swirled around. While she was being tossed and turned, Nicole cut her leg on the side of one of the rocks. It started to bleed, but she didn't care. She was having too much fun on the rocks.
Finally, after lots of fun in the circle, they decided to start the swim. They swam and swam until they were halfway across the bay, where they stopped to rest. As they trod water and hung on to their lifeguard floats, a dolphin zipped by. Soon it was joined by another, and another, and another. Soon, a whole pod of dolphins was swimming around them. Then the dolphins started behaving oddly. They swam in tight circles around the humans. Rob, being a lifeguard, had been close to dolphins before, especially since more than 500 of them lived in the area. They liked to watch and play with humans all the time. But this behavior was unlike anything he had ever seen. They kept herding him and the girls closer and closer together, until they could hardly move. thirty minutes passed, and still, the dolphins circled. The teens were tired and cold. They couldn't tread water for much longer. Rob fought his way out of the circle to check things out. Immediately, a couple of dolphins in the pod herded him back in, but not before he saw what was outside the tight circle. A great white shark, probably attracted by the smell of blood coming from Nicole, was trying to get to the source of the smell. All of a sudden, the dolphins got more active. They started to slap their tails across the surface of the water, and some dove under the humans' feet. Finally, things started to calm down. The dolphins loosened the circle, then little by little, they started to swim away. Thankfully, the shark had decided against taking on so many dolphins and had swum away. They returned to the beach safely, and will always be thankful for the pod of dolphins that saved their lives.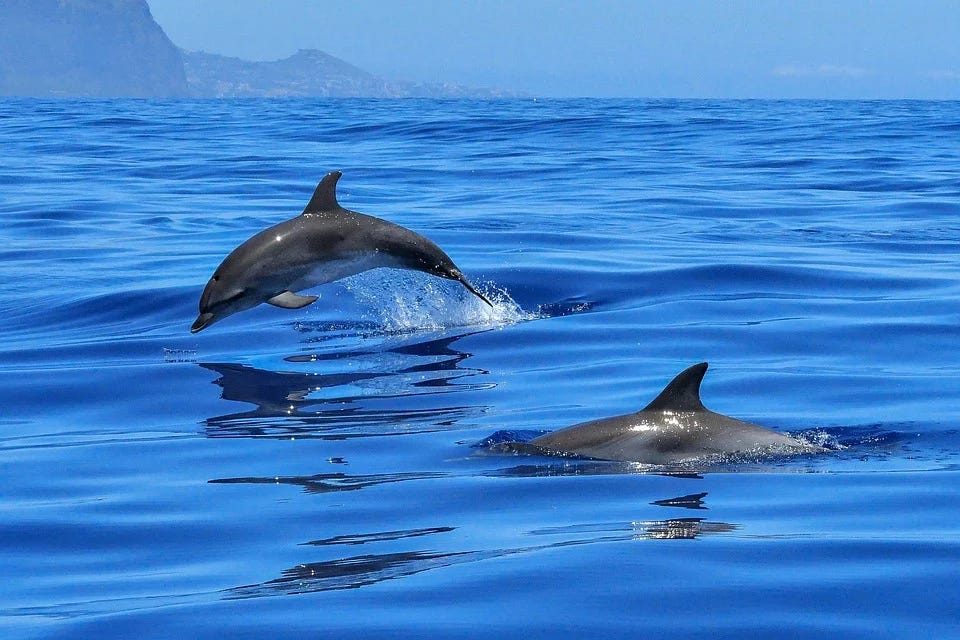 Fun Facts About Dolphins:
1. THEY CAN TURN OFF HALF OF THEIR BRAIN
Bottlenose dolphins sleep with one half of their brain at a time, and keep one eye open.
2. DOLPHINS ARE CHATTY ANIMALS
Dolphins have some of the most elaborate acoustic abilities in the animal kingdom. They make a variety of sounds including whistles, clicks, squawks, squeaks, moans, barks, groans, and yelps. 
3. EACH DOLPHIN'S DORSAL FIN IS UNIQUE
No two are alike, just like snowflakes or fingerprints. This can be very useful in identification.
4. DOLPHINS HAVE NAMES!
They use specific individual whistles in order to identify each other.
5. DOLPHINS HAVE 2 STOMACHS
One is used for storage of food and the other is used for digestion.